Thermolifting Nir®
The effects of the Thermolifting Nir® treatment
The treatment causes shrinkage of collagen fibers and visible reduction of wrinkles. This is the effect of infrared IR radiation with a specially selected wavelength (750-1800 nm). As a result, the skin is compacted and pulled, its tension and elasticity increases. It also modifies its structure, wrinkles are smoothed out, which can be seen already in a few moments from the beginning of the treatment. The effects of the therapy result from the reconstruction of the scaffolding of our skin, which follows a two-track approach. Thermo-contraction of the collagen fibers existing in the skin occurs almost immediately, ie on the day of the procedure. The formation of new collagen fibers – neocollagenogenesis takes place within 1 to 6 months and it is this process that ensures long-lasting and natural effects for years.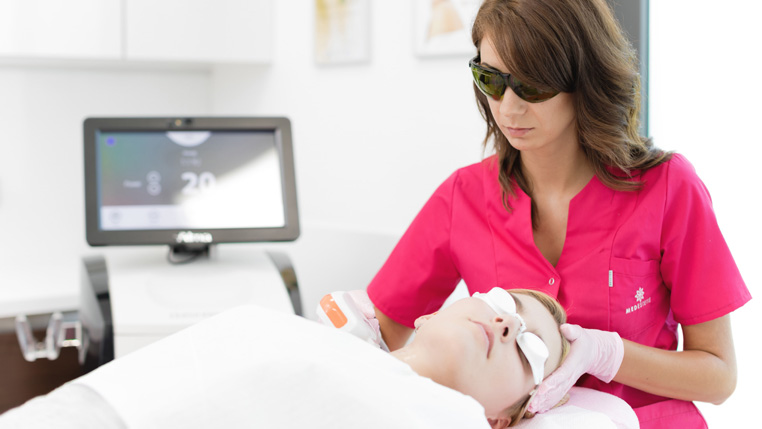 What does the Thermolifting Nir® treatment look like?
The procedure is performed by a cosmetologist after determining the indication and exclusion of contraindications during the consultation. It involves controlled heating of the skin thanks to the use of IR radiation with a specially selected wavelength (750-1800 nm). This results in uniform and gradual warming of the deep layers of the dermis (up to 65 ° C), with simultaneous constant protective surface cooling. The thermal effect, occurring in the lower layers of the skin, causes heating and irritation of collagen fibers, which results in their rapid contraction. As a result, the skin is compacted and pulled down, its tension and elasticity increase.
Time of treatment
The treatment lasts from 30 to 60 minutes depending on the area of the body
The period of convalescence
The treatment does not require a convalescence period. Immediate skin redness may occur immediately after it, which disappears after about 4 hours.
The duration of the effects
Due to the essence of therapy and stimulation of the neocollagenogenesis process, it is assumed that the procedure causes effects lasting up to 12 months – the optimal effectiveness is offered by performing a series of 3 treatments for a given area of the body. For the sake of effectiveness of therapy, however, it is recommended to perform booster treatments at 6-month intervals.
Contraindications
pregnancy and breastfeeding period,
open wounds, disruption of the skin as a result of viral,
bacterial and other diseases,
neoplastic and autoimmune diseases,
implants,
two weeks from the use of fillers and Botox.