certified cosmetologist Magdalena Gucik
cosmetologist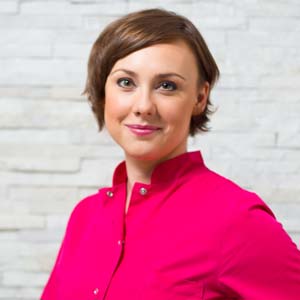 Magdalena Gucik graduated from the Krakow School of Health Promotion with the specialization: Cosmetology and Health Promotion in 2007.
Since graduating, she has been constantly improving her qualifications, participating in numerous trainings, congresses and conferences in the field of cosmetology, applied cosmetics, dermatology and aesthetic medicine. She has obtained certificates of many cosmetic companies, entitling to perform specialist cosmetic treatments.
She gained her professional experience from applied cosmetics while working in the beauty salon "Retro" in Krakow in 2007, where she dealt with the care of hands and feet.
In 2009, she began working with the Nordic Spa beauty salon in Krakow, dealing with specialized facial and body treatments as a beautician and masseuse.
Wanting to broaden her knowledge of dermatology, she established a cooperation with the "European III" Pharmacy in Krakow as a dermatologist. She gave professional advice and recommended dermocosmetic care, selected for the condition and type of skin.
She is the author of several articles in the field of cosmetology, written for the " Dom Zdrowia" pharmacy, posted on their website.
She has an artistic soul, hence her passion for make-up and stylization. And because beauty is external and internal harmony – is now a student of the Faculty of Psychology at the Higher School of Social Psychology in Katowice.
She has been cooperating with the Institutes of MEDestetis since 2011 as a cosmetologist.